HRV INSTALLATION, REPAIRS & MAINTENANCE CALGARY
Are you looking to install a new HRV (Heat Recovery Ventilation) system at your Calgary property? Or maybe you are searching for professional repairs and maintenance for your existing HRV system? Trust One Stop HVAC for all your HRV requirements and call us today!
Same / Next Day
Service 24/7
Rating 5/5
Google Reviews
Licensed TSSA
Technicians
Served Over 1000
Local Residents
Get Your Free
Estimate Today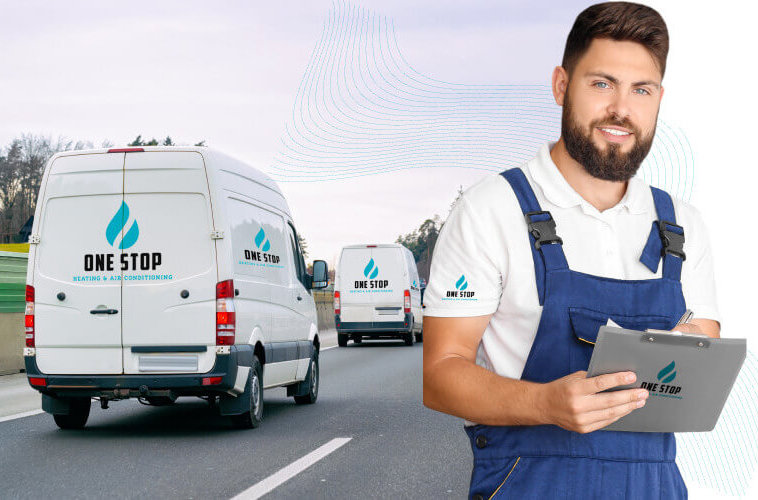 Specialized HRV System Installation
Heat Recovery Ventilation (HRV) systems facilitate the intake of fresh air into your home while expelling stagnant air, enhancing overall air quality. A key feature of HRV systems is the inclusion of a heat exchanger, which enables the outgoing air to transfer its warmth to the incoming air. This technology significantly elevates the air quality within your home, all the while exhibiting impressive energy efficiency. When you choose One Stop HVAC for your HRV system installations, repairs, or maintenance, you can anticipate…
24/7 appointment availability
Trained and certified technicians
Custom HRV installation/repair plans
Partnerships with leading brands
GET A FREE QUOTE
Francis Pasicolan
2023-11-06
Fast and Fair Price. I contacted them in the evening and they quoted a fair price. The next morning they have my AC moved to a different location and everything went well. I will definitely recommend these guys for any HVAC works.
Very nice, friendly, people. Prompt, honest and fair priced. They answered the phone so I didn't have to leave a message and hope they called back. They are the very best and I won't use any other company in the future.
I highly recommend One Stop for furnace service. Their dedication to customer satisfaction and expertise in the field make them a standout choice.
André Müller Soares
2023-09-30
The best company to deal with!
Pavel Badaiants
2023-09-29
Anthony recently installed my garage heater, and it was a breeze. The team was professional and quick, completing the job in no time. Since the installation, my garage is comfortably warm, even during the coldest days. The pricing was fair, and they explained the heater's operation clearly. It's a game-changer for my space, and I couldn't be happier. If you're looking for a garage heater installation, I highly recommend.
Pavel Badaiants
2023-09-29
My furnace received a thorough service, and I'm impressed with the results. It's running efficiently again.
Dmytro Hudzevych
2023-09-28
One Stop installed my garage heater flawlessly. Quick, professional, and a game-changer for my garage's comfort. Highly recommended!
Prosto Records
2023-09-28
The technicians who conducted my furnace service displayed impressive expertise. I'm thoroughly satisfied with their professionalism.
Amazing customer service! I liked the attention to detail and accauntability of Anthony. The garage heater installation by this company was top-notch. Swift, professional, and now my garage feels like heaven. Highly recommend!
HOT DEALS ON HEATING AND COOLING
Grab Your Exclusive Coupon Now
With an HRV System Installation.
We offer seniors 10% off on all labour.

With an HRV Unit Installation purchase.
SHOULD YOU INVEST IN A HRV UNIT?
Benefits Of HRV Systems
There are countless advantages of installing a HRV (Heat Recovery Ventilation) system in your Calgary home. After years of working with these unique systems, we have accumulated the top reasons our customers were converted:
Improved Indoor Air Quality: HRV systems ensure a constant supply of fresh air while expelling stale air, resulting in a healthier and more comfortable living environment.
Energy Efficiency: HRVs recover and retain a significant portion of the heat that would otherwise be lost through ventilation, leading to reduced energy consumption and lower utility bills.
Cost Savings: By minimizing the need for excessive heating in winter and reducing reliance on air conditioning in summer, HRV systems can lead to substantial cost savings over time.
Moisture Control: They effectively manage moisture levels in the home, preventing issues like mold growth and preserving the integrity of the building structure and furnishings.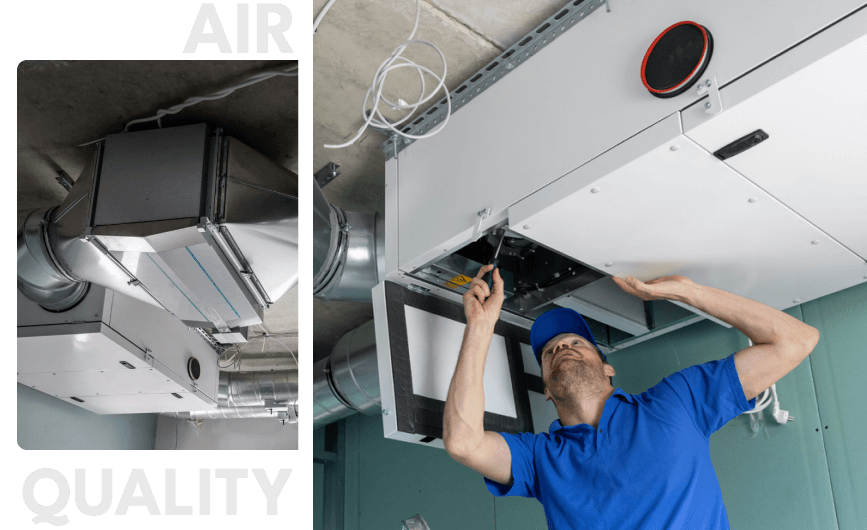 THE ONE-STOP WAY TO PROCEED
Our Processes
01. WHOLE-HOME ASSESSMENT
Our technicians use the latest diagnostic equipment to ensure transparent suggestions, ensuring maximum energy efficiently in your home.
02. CREATE HOME PLAN
We believe in being transparent with our clients, taking a collaborative approach to create HVAC plans that cater individual requirements.
03. ENHANCE YOUR PERFORMANCE
Whether it's a minor repair or the installation of a new appliance, our goal is to help you achieve long-term cost-effective results.
04. TEST AND MEASURE
Before we finish we conduct finial testing to ensure your appliance is operating to the best of it's ability.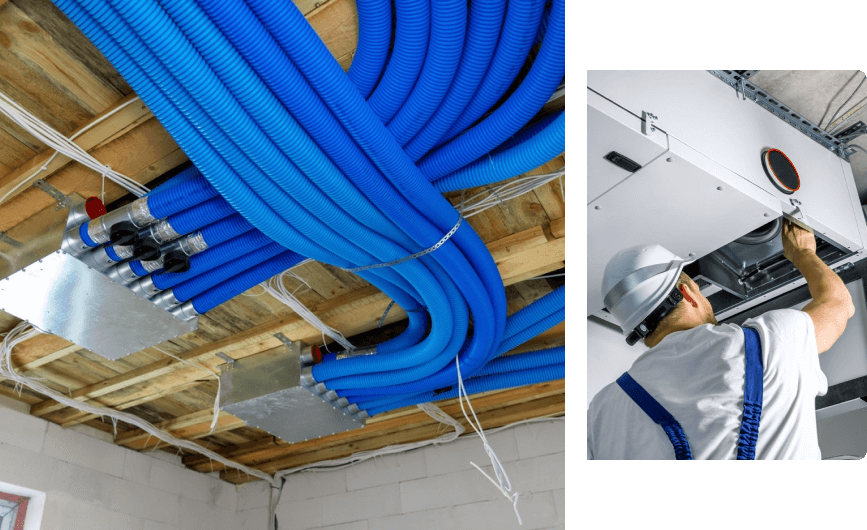 HRV SYSTEM TROUBLESHOOTING
Common HRV System Repairs
When it comes to HRV maintenance, some troubleshooting tasks can be handled independently, while others may necessitate the expertise of One Stop HVAC's technicians:
Reset the breaker: Ensure the main power indicator at the central controller is functioning properly. Inside the circuit breaker, check for any tripped switches.
Replace air filters: Regularly inspect the air filter status within the central unit.
Check the vents: Confirm that HRV intake and exhaust vents in individual rooms remain unobstructed for optimal performance.
Blocked drain tube: If condensate drain issues arise, they are often associated with obstructions within the drain tube. Professional service may be required to rectify this.
Improperly installed drain tube: Another potential issue could be a drain tube lacking the necessary slope for gravity flow of condensate to the discharge point. This may require professional attention to correct.
Our expert technicians at One Stop HVAC are here to assist you in addressing any HRV concerns, just give us a call!
Call us to get a Free Quote!
Discover our professional HRV System Services!
WHY SHOULD YOU SERVICE YOUR HRV SYSTEM?
The Importance Of HRV System Maintenance
HRV (Heat Recovery Ventilator) Systems play a crucial role in maintaining optimal air quality in your Calgary property. However, to consistently reap the benefits of these systems, regular maintenance is essential. This not only prolongs the lifespan of your HRV system but also guarantees that clean air is continuously circulated.
Our skilled technicians will handle tasks such as cleaning/replacing air filters, inspecting condensate drains, cleaning the heat-exchange core, examining ductwork, servicing fans, and tending to other mechanical components. We strongly recommend scheduling routine HRV maintenance every 3-6 months to ensure your system operates efficiently.