FURNACE REPAIR
One Stop HVAC is the trusted choice for all your furnace repair needs, offering 24/7 appointment availability for your convenience! Just give us a call today to schedule an appointment with one of our licensed technicians!
Same / Next Day
Service 24/7
Rating 5/5
Google Reviews
Licensed TSSA
Technicians
Served Over 1000
Local Residents
Get Your Free
Estimate Today
Professional Furnace Repair
When it comes to dependable furnace repairs, selecting the right service provider who truly prioritizes your needs is crucial. At One Stop HVAC, our team of expert technicians adopts a collaborative approach to deliver reliable services when you need them most. By choosing us for your furnace repairs, you can expect…
Reliable and prompt response to your service requests
Highly skilled technicians with extensive expertise
Customized service plans tailored to your specific requirements
Partnerships with leading furnace brands, ensuring top-quality replacements and components
GET A FREE QUOTE
HOT DEALS ON HEATING AND COOLING
Grab Your Exclusive Coupon Now
When you book through our website.

With a Furnace Installation purchase.

We offer seniors 10% off on all labour.

THE ONE-STOP WAY TO PROCEED
Our Processes
01. WHOLE-HOME ASSESSMENT
Our technicians use the latest diagnostic equipment to ensure transparent suggestions, ensuring maximum energy efficiently in your home.
02. CREATE HOME PLAN
We believe in being transparent with our clients, taking a collaborative approach to create HVAC plans that cater individual requirements.
03. ENHANCE YOUR PERFORMANCE
Whether it's a minor repair or the installation of a new appliance, our goal is to help you achieve long-term cost-effective results.
04. TEST AND MEASURE
Before we finish we conduct finial testing to ensure your appliance is operating to the best of it's ability.
ARE YOU EXPERIENCING ANY OF THESE?
Common Furnace Repair Issues
Our extensive experience in furnace repairs has exposed us to a wide range of common issues. If your Calgary furnace is displaying any of these signs, don't hesitate your reach out!
Failure to start: A simple explanation could be an issue with the thermostat, other potential causes include problems with pilot lights, circuit breakers, or a fuel shortage.
Insufficient heat production: This could be malfunctioning gas burners or airflow obstructions.
Noisy operation: High-pitched noises may suggest a loose blower, while low-pitched sounds can be a sign of burner complications.
Water leakage: This could be a clogged condensate drain, a cracked heat exchanger, faulty humidifiers or improper installations.
Call us to get a Free Quote!
Discover our unparalleled Furnace Repair Services!
WHY SHOULD YOU SERVICE YOUR FURNACE?
The Importance of Furnace Servicing
Servicing your furnace on a regular basis is vital for ensuring its efficient operation. This proactive approach allows for the identification and resolution of minor issues or potential problems before they escalate, ultimately saving you valuable time and money in the long term.
Our team of skilled technicians meticulously cleans and inspects your furnace, replacing any worn-out components and lubricating moving parts to maintain peak performance. To keep your furnace running smoothly and prevent unforeseen breakdowns, it is recommended to schedule a service at least once a year.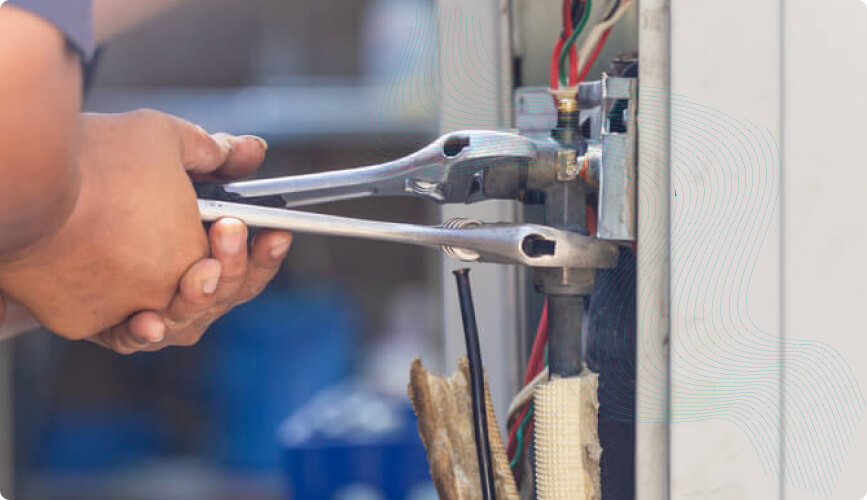 HOT DEALS ON HEATING AND COOLING
Brands We Serve
We provide a warranty on all of our HVAC installations to ensure that you are confident with our services and products. One Stop HVAC Is authorized to work and service the following HVAC Brands: