FIREPLACE INSTALLATION, REMOVAL & REPAIR IN CALGARY
Select One Stop HVAC for your fireplace installations, removal and repairs. Our licensed technicians have extensive experience working with fireplaces in a range of property types.
Same / Next Day
Service 24/7
Rating 5/5
Google Reviews
Licensed TSSA
Technicians
Served Over 1000
Local Residents
Get Your Free
Estimate Today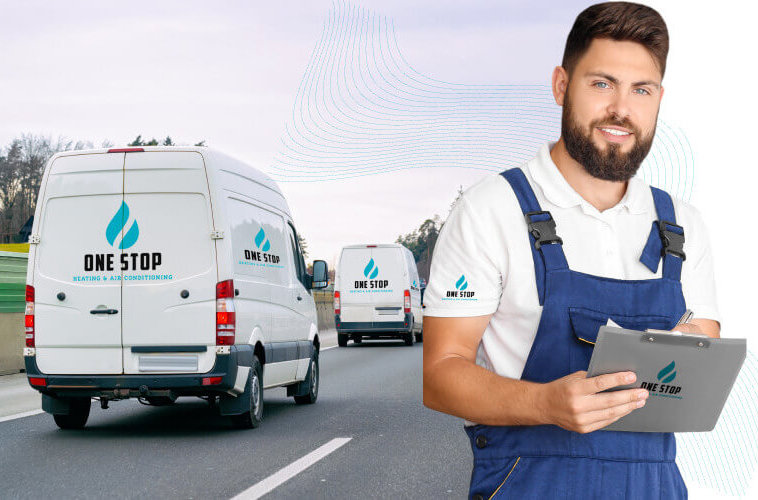 Dependable Fireplace Installation
Installing a fireplace can be a big project, highlighting the significance of choosing a service provider with comprehensive expertise in fireplace installation. Our skilled technicians have years of experience in installing a diverse range of fireplaces across various property styles. When you partner with One Stop HVAC for your new fireplace installation, anticipate…
24/7 appointment availability that prioritizes your schedule
Professional technicians with extensive experience
Customized service plans designed around you
Partnerships with leading fireplace brands
GET A FREE QUOTE
Francis Pasicolan
2023-11-06
Fast and Fair Price. I contacted them in the evening and they quoted a fair price. The next morning they have my AC moved to a different location and everything went well. I will definitely recommend these guys for any HVAC works.
Very nice, friendly, people. Prompt, honest and fair priced. They answered the phone so I didn't have to leave a message and hope they called back. They are the very best and I won't use any other company in the future.
I highly recommend One Stop for furnace service. Their dedication to customer satisfaction and expertise in the field make them a standout choice.
André Müller Soares
2023-09-30
The best company to deal with!
Pavel Badaiants
2023-09-29
Anthony recently installed my garage heater, and it was a breeze. The team was professional and quick, completing the job in no time. Since the installation, my garage is comfortably warm, even during the coldest days. The pricing was fair, and they explained the heater's operation clearly. It's a game-changer for my space, and I couldn't be happier. If you're looking for a garage heater installation, I highly recommend.
Pavel Badaiants
2023-09-29
My furnace received a thorough service, and I'm impressed with the results. It's running efficiently again.
Dmytro Hudzevych
2023-09-28
One Stop installed my garage heater flawlessly. Quick, professional, and a game-changer for my garage's comfort. Highly recommended!
Prosto Records
2023-09-28
The technicians who conducted my furnace service displayed impressive expertise. I'm thoroughly satisfied with their professionalism.
Amazing customer service! I liked the attention to detail and accauntability of Anthony. The garage heater installation by this company was top-notch. Swift, professional, and now my garage feels like heaven. Highly recommend!
HOT DEALS ON HEATING AND COOLING
Grab Your Exclusive Coupon Now
With a Fireplace Installation purchase.

We offer seniors 10% off on all labour.

When you book through the website.

IS INSTALLING A NEW FIREPLACE WORTH IT?

Benefits Of A Fireplace Installation
There are numerous advantages to adding a new fireplace to your Calgary residence, and one of the most significant is the potential reduction in your energy expenses. By utilizing an alternative heat source to warm your property, you can lower the thermostat. This not only cuts down on your energy bills but also eases the burden on your HVAC system.
A fireplace is a hot commodity in today's real estate market. When you install a new fireplace, you're enhancing the value of your home and increasing its overall appeal to potential buyers. With a wide array of fireplace designs and styles to choose from, you have the flexibility to select the perfect fireplace that complements your existing decor. Contact us today for a free quote!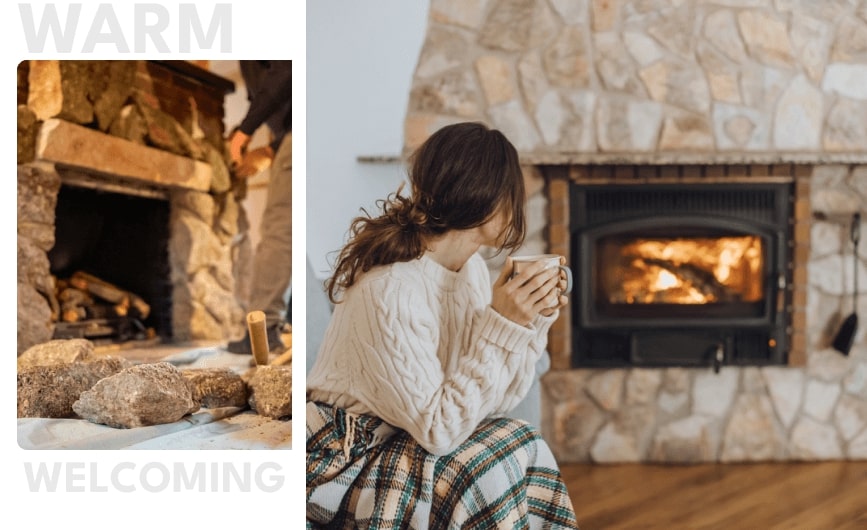 THE ONE-STOP WAY TO PROCEED
Our Processes
01. WHOLE-HOME ASSESSMENT
Our technicians use the latest diagnostic equipment to ensure transparent suggestions, ensuring maximum energy efficiently in your home.
02. CREATE HOME PLAN
We believe in being transparent with our clients, taking a collaborative approach to create HVAC plans that cater individual requirements.
03. ENHANCE YOUR PERFORMANCE
Whether it's a minor repair or the installation of a new appliance, our goal is to help you achieve long-term cost-effective results.
04. TEST AND MEASURE
Before we finish we conduct finial testing to ensure your appliance is operating to the best of it's ability.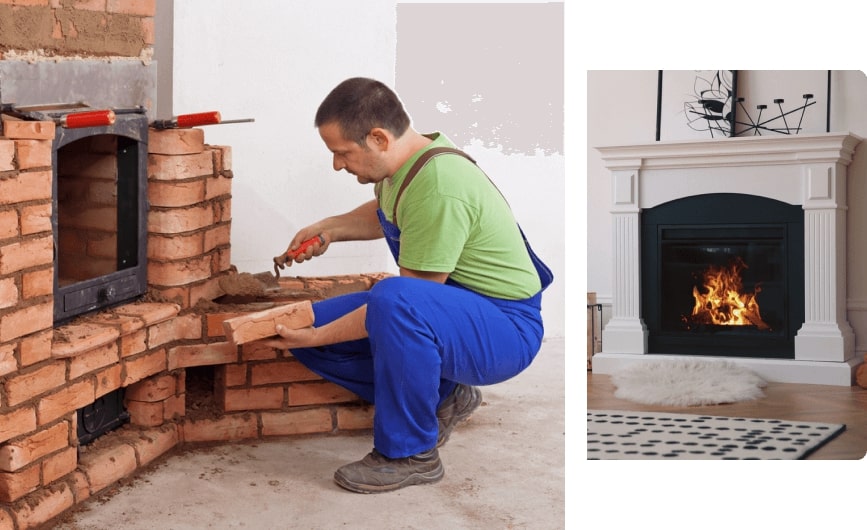 PROFESSIONAL FIREPLACE INSTALLATIONS
What Are The  Different Types Of Fireplaces?
At One Stop HVAC, we offer professional fireplace installations in Calgary for the following types of fireplaces…
Gas Fireplaces: These fireplaces are the convenient choice, requiring minimal upkeep while providing high heat output. All you needed is a gas utility connection and an exterior wall for vent installation.
Electric Fireplaces: Known for their versatility, these fireplaces can be placed in almost any location and are easily transportable if you move. They may not generate as much warmth as their counterparts, they excel at zone heating.
Wood Fireplaces: A timeless selection that can be slightly less energy-efficient than its counterparts. However, this classic option will never lose its ability to create the perfect ambiance.
Call us to get a Free Quote!
Discover our unparalleled Fireplace Installation Services!
FIREPLACE REPAIRS AND SOLUTIONS
Common Fireplace Repairs
Over the years our team have experienced a number of fireplace repairs, these are the most common problems we have encountered:
Pilot light ignition problems: If the pilot light in a gas fireplace goes out, it may need manual reignition. If this doesn't work, there could be moisture in the gas line, requiring professional attention.
Creosote buildup: This tar-like substance forms in wood-burning fireplaces when smoke cools and condenses. It can obstruct airflow and pose a fire hazard.
Neglected gas fireplaces: Failing to clean a gas fireplace can lead to reduced flame height, lower heat output, and potential gas leaks.
Cracked fire bricks: These bricks line the inside of a fireplace and withstand high heat. Over time, they may crack, potentially allowing harmful gases to enter your home.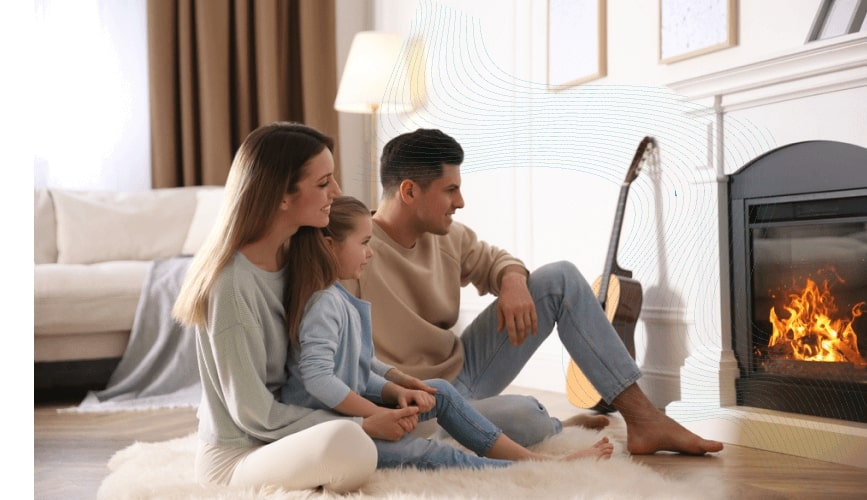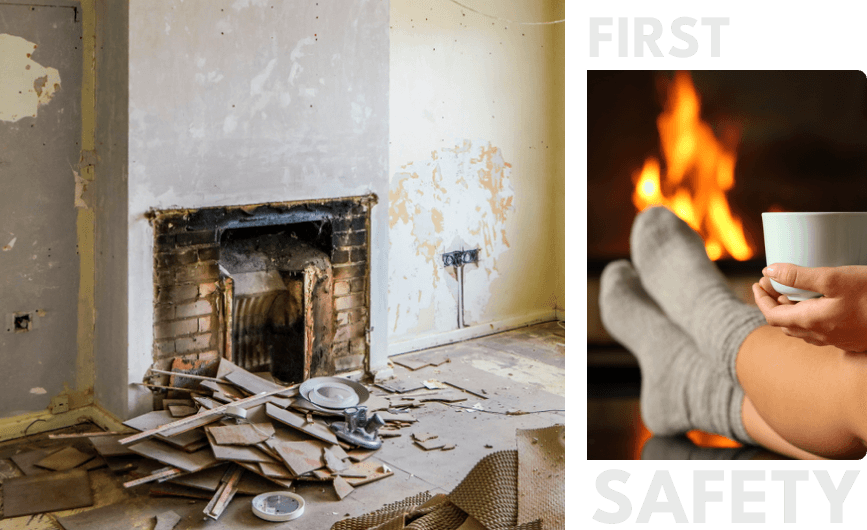 FIREPLACE REMOVAL SERVICES
When Should You Remove Your Fireplace?
The process of removing a fireplace is a significant endeavor that demands careful consideration. Several circumstances may lead to this decision. If your fireplace has reached a state of disrepair where it poses safety risks or structural instability, it might no longer be functional. Potentially there could be factors preventing the use of a fully operational fireplace. While fireplaces are often seen as decorative, there may be more utilitarian purposes for the space they occupy.
In certain instances, personal preferences may drive the choice to remove a fireplace. You might require additional storage, seek to increase natural light exposure with new windows, or maybe you simply prefer an expanded wall space. Regardless of the motivation behind the decision to remove your fireplace in Calgary, you can trust One Stop HVAC!